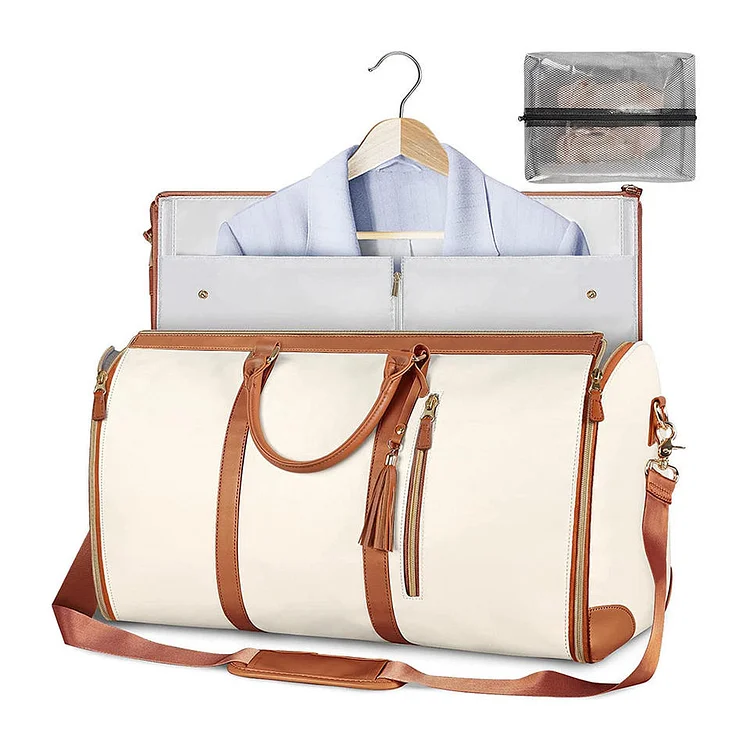 Material: Polyurethane Leather

Color: Pink - Cream

Duffel size (zipped up): 20.5 x 10 x 12.5 in

Garment size (opened) : 37 x 20.5 12.5 x 10 in

Weight: 2.9 lbs
What is a convertible duffel garment bag?
Our convertible duffel garment bag is a versatile travel accessory that combines the functionality of a traditional duffel bag with the convenience of a garment bag. It allows you to carry your clothes in a neatly folded, wrinkle-free manner while also providing ample space for other essentials, making it ideal for business trips, weekend getaways, and more.
How does the bag convert from a duffel to a garment bag?
Converting the bag is simple and quick. Just unzip the designated compartment that holds the garment hanger, unfold the bag, and lay your clothes flat on the garment hanger. Once your clothes are in place, zip up the compartment, and voilà, your duffel bag is now a garment bag!


What types of clothing can the garment bag accommodate?
Our convertible duffel garment bag is designed to accommodate various types of clothing, including suits, dresses, shirts, and pants. It provides ample space to keep your garments neatly organized and wrinkle-free during travel.


Does the bag have enough storage for other travel essentials?
Absolutely! The bag is equipped with multiple compartments and pockets to store your shoes, toiletries, gadgets, and other essentials. You won't have to compromise on packing any necessities for your trip.


Is the bag carry-on friendly for flights?
Yes, the bag is designed to comply with most airline carry-on size restrictions. However, we recommend checking with your specific airline for any updated guidelines on carry-on luggage dimensions.


What material is the bag made of, and is it durable?
Our convertible duffel garment bag is crafted from high-quality and durable materials, ensuring it withstands the rigors of travel. The exterior is typically made of sturdy, water-resistant fabric, while the interior features soft and protective lining for your clothes.


Can the bag be used as a backpack?
Yes, many of our convertible duffel garment bags come with adjustable and comfortable backpack straps, allowing you to carry it on your back for hands-free convenience. This feature is especially useful when navigating busy airports or city streets.


Is the bag easy to clean and maintain?
Yes, maintaining the bag is straightforward. Usually, a damp cloth and mild soap will suffice for spot cleaning the exterior. Additionally, the interior lining is designed to be easily cleaned if necessary.


Does the bag come with a warranty?
Yes, our convertible duffel garment bag comes with a warranty that covers manufacturing defects. Please refer to our warranty policy for further details and terms.


What is the bag's overall dimensions and weight?
The specific dimensions and weight may vary depending on the model. Please refer to the product specifications on our website for detailed information about each bag's size and weight
We shipped worldwide and delivery takes 5-10 business days depending on where you are located.
USA - 5-8 business days
UK - 5-7 business days
AU/NZ - 6-10 business days
CA - 7-10 business days
Once shipped you will receive a tracking number to keep up to date with the current status of delivery.
"Smart idea!✨✨✨ I travel frequently, and this duffel bag prevents my clothes from wrinkling while allowing me to pack weeks worth of items. Worth every PENNY 💖" - Francesca D
✓ LARGE CAPACITY
✓ MULTIPLE COMPARTMENTS
✓ DETACHABLE BAG STRAP
NO MORE WRINKLED CLOTHES
Travel with ease, our garment bag keeps your suits and dresses wrinkle-free, ensuring you look impeccable wherever you go.
WE HAVE EVERYTHING YOU NEED
Perfect for travelling and easy to carry around whether you take it as your main bag or as an additional bag alongside your larger one.
PREMIUM DESIGN
Meticulously crafted, our bag redefines travel style. while staying organized for travel elegance.